What you Need to Know about ERP – Cloud ERP or On-Premise ERP
Introduction
In the recent years, more options to acquire IT solutions including ERP are becoming available.  Various vendors aggressively market Cloud ERP as the next new big thing in ERP.
However, as ERP is a business-critical solution, the decision can have huge impact to a company's well being.  This article attempts to provide some pointers for companies who are looking for ERP Solutions.
Is Cloud ERP New?
Cloud ERP is not new.  As a matter of fact, the first cloud ERP started in Singapore in 1996.  It was a government sponsored scheme for Singapore SMEs called "MRP Online".  Coincidentally, I was the user of this first in the world cloud ERP and that was how I started my 23 years of ERP career.
For SaaS, why is ERP Different
So, what make cloud ERP so different from other cloud solutions such as Office, CRM, Adobe Cloud, etc.:
Implementation
ERP Projects require more professional services to implement.  In fact, at least half of the success factors of ERP project depends on the quality of its implementation.  How often that you heard of Office365 Project failure?  Never.  And, how often you heard of ERP project challenges? Often enough. So, ERP projects are seldom standard.
Customization
Most ERP projects involve some degree of customization through programming.  Other standard cloud solutions are usually not customizable through programming.
Mission Critical
You can have your Office365 down for 2 hours and it will have much less impact than if your ERP, especially if you are in retail business to be down for 2 hours.
Critical Company Operations Information
ERP keeps critical company and business operations historical information that has legal, operations and regulatory impact.
Why ERP Vendors Push for Cloud
ERP Vendors promote cloud for various reasons:
Market Demand
The hype in cloud solution has driven demand for such solutions and vendors are just catering for this demand.
Good for Share Price
As it is the in-thing now to go on cloud, selling cloud version of ERP induces positive impact on ERP companies' share price.
Predictable Revenue Stream
One of the major advantages of cloud revenue is its predictability since they are recurring.
Lock-down Effect
Cloud ERP has lock-down effect on its customers, making it more difficult for them to change to another solution.
Options for ERP: Cloud, Hybrid and On-Premise
Depending on the ERP, there are various options for delivery of the ERP solution as the software and hardware can be separated: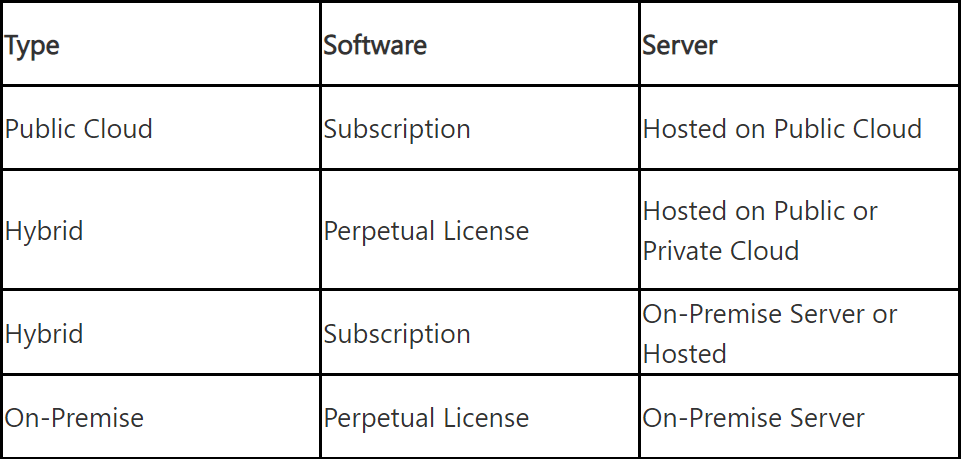 Not all ERPs provide all these options, but it will be good to explore the pros and cons of each options when they are available.
What should Customer consider when deciding on Cloud
There are various considerations to be made when company is evaluating whether they want their ERP on Cloud or On-Premise.
Cash flow
The costs of ERP project include software, implementation professional services, hardware and hosting.  Analysing the options on the cash flow impact will provide a better overview of the pros and cons. Cloud ERP will only lighten the cash flow impact of the software and hardware costs but usually not the professional services.
Companies may also consider ERP leasing scheme from financing companies who will finance the total cost of the project.
However, for companies who are already facing cash flow challenges, implementing ERP may not be an appropriate solution.
OPEX vs CAPEX
The argument for cloud is that it is better to have OPEX than CAPEX.  However, companies need to consider the impact of the relatively lower Singapore corporate tax that may make this advantage less significant as compared to countries with high corporate tax.
Easier to justify to Management
In some companies, it may be easier to convince their management to budget for recurring subscription than to budget for one-time capital expenses.
Lack of internal IT
Hosting on the cloud may be favorable for companies with limited IT resources.  Some companies overcome this by outsourcing their IT services.
Variable Subscription Price vs Fixed Perpetual Price
One of the least predictable part of cloud ERP is the future subscription pricing as it may increase or becoming more expensive when you start to subscribe to more advanced modules.  Perpetual license refers to company purchases ERP license instead of subscription, which tends to be fixed even for its yearly license maintenance in the future.
Lock-down Effect
Companies in Singapore need to keep accounting records for 5 years.  This means that even if they change to another ERP or stop using the ERP, they will need to keep ERP data for at least 5 years to access to historical accounting records.  For cloud ERP, this usually means that they will need to subscribe to minimum number of users for 5 years to obtain access after stopping the use of the ERP for daily operations.
Limit the cost of Project Failure
As ERP Project failure is not uncommon, some companies consider to go for cloud subscription and only purchase the perpetual license once the project is successful.
Easy to Scale Up and Down
One of the advantages of Cloud is its ability to scale up and down the software user counts and the hosting facilities.  This may be useful for some industries such as retail when the demand for the ERP varies very time.
Limitation of Public Cloud
If your ERP is hosted on public cloud, it usually limits the customization (programming) that you can do during your implementation.  It is similar to staying in HDB housing, you can't just change the design of your home without approval.  So, if your ERP solution require higher degree of customization or integration to other external systems, you will have to check if there is any restriction on public cloud hosted ERP or private cloud will be more appropriate.
Conclusion
Making decision on ERP must look at long term prospective.  With so much marketing hype and sales talk going around, it is very tough for users with limited ERP exposure to understand the implications of various ERP solutions and options.  Finding the right ERP is sometime more an art than a science.