Microsoft Dynamics 365 Business Central
Microsoft Dynamics 365 Business Central ERP (formerly known as Microsoft Dynamics NAV or Navision) is an all-in-one business management solution.  It is easy to use and adapt. Microsoft Dynamics 365 Business Central (Enterprise Resource Planning) connects your finances, sales, service, and operations.  Business Central streamlines business processes, improves customer interactions, and enable growth.
Dynamics 365 Business Central brings the full power of Dynamics NAV and Navision to the cloud, hybrid or on-premise. As such, Business Central has at its foundation a set of trusted, proven technologies that have served millions of users worldwide.
As a single, end-to-end application, Business Central helps organizations:
Connect your business. Unify business, and boost efficiency with automated tasks and workflows—all integrated within familiar Office tools like Outlook, Word, and Excel.
Make smarter decisions. Achieve greater outcomes and gain a complete view of business with connected data, business analytics, and guidance delivered by Microsoft's leading intelligent technologies.
Start and grow easily. Get up and running quickly, grow at your own pace, and adapt in real-time with a flexible platform.  Business Central makes it easy to extend Business Central based on changing business needs.
Microsoft Dynamics 365 Business Central connects your Financials, Sales, Service and Operations
Manage your Financials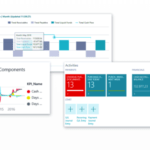 Make Informed Decisions
Connect data across accounting, sales, purchasing, inventory, and customer interactions to get an end-to-end view of your business. Chart financial performance in real-time with built-in Power BI dashboards.
Accelerate Financial Close and Reporting
Streamline accounts receivables and payables, and automatically reconcile accounts to close and report on financials quickly and accurately.  Business Central helps companies to maintain compliance.
Improve Forecast Accuracy
Refine financial forecasts by modelling and analyzing data across multiple dimensions. Customize reports using seamless Microsoft Excel integration.
Automate and Secure your Supply Chain
Optimize Inventory Levels
Microsoft Dynamics 365 Business Central uses built-in intelligence to predict when and what to replenish. Purchase what you need with dynamically updated inventory levels to avoid overstocking that tie down your cash flow.
Avoid Lost Sales and Reduce Shortages
Maintain the right amount of inventory by automatically calculating stock levels, lead times, and reorder points. Business Central suggests substitutes when requested items are out of stock.
Maximize Profitability
Get recommendations on when to pay vendors to use vendor discounts or avoid overdue penalties. Business Central prevents unnecessary or fraudulent purchases through approval workflows.
Sell Smarter and Improve Customer Service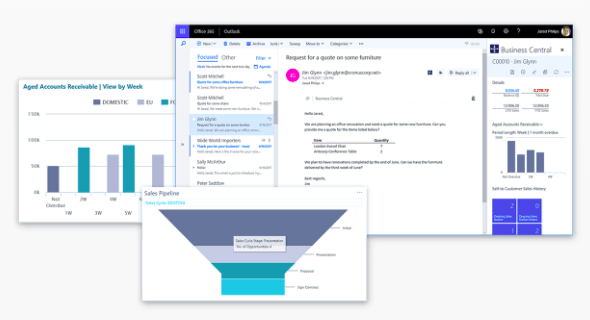 Deliver Value at Every Touchpoint
Microsoft Dynamics 365 Business Central prioritizes sales leads based on revenue potential. It keeps track of all customer interactions and gets guidance on best to upsell, cross-sell, and renewal opportunities throughout your sales cycle.
Boost Sales Productivity
Business Central accelerates the quote to cash process. It acts quickly on sales-related inquiries, manage service requests, and process payments—all from within Outlook.
Deliver Exceptional Service
Gain a comprehensive overview of your service tasks, workloads, and employee skills to effectively assign resources and accelerate case resolution.
Keep Projects on time and under Budget
Stay on Budget
Microsoft Dynamics 365 Business Central creates, manages, and tracks customer projects using timesheets along with advanced job costing and reporting capabilities. It develops, modifies, and controls budgets to ensure project profitability.
Plan with Precision
Manage resource levels by planning capacity and sales. Business Central tracks invoicing for customers against planned costs on orders and quotes.
Analyze Project Performance
Make effective decisions with real-time insight on project status, profitability, and resource-usage metrics.
Optimize your operations
Manage Forecasting to Fulfillment
Business Central uses sales forecasts and expected stock-outs to generate production plans and create purchase orders automatically.
Run your Warehousing Efficiently
Get a holistic view of inventory for efficient order fulfilment. Business Central Track every item transaction and movement by setting up bins based on warehouse layout and storage unit dimensions.
Reach Optimal Output Levels
Calculate and optimize manufacturing capacity and resources to improve production schedules and meet customer demands.
Note:  Microsoft Dynamics 365 Business Central was previously named Microsoft Dynamics NAV and Navision.